If you're learning Russian, you must read Russian books.
In the beginning those will be mainly simple books to learn Russian. Later you will read short stories to improve your vocabulary.
And once you get the hang of it, you can start reading real Russian books, such as the classical literature or modern books.
What are the best books to learn Russian for beginners?
Below you will find a collection of helpful books to learn Russian.
You don't need to get all of them. I recommend you read through my descriptions of them – and pick 1 or 2 that you like.
Watch this video where I tell you in Russian (with English subtitles) 9 reasons why Russian is actually easy to learn.
Master the Russian Alphabet
If you're learning Russian, you should learn the Russian alphabet (or officially the Cyrillic alphabet) soon after you start your Russian language journey.
Unfortunately, many people think that learning the Russian alphabet is difficult. After all, it looks completely different from the Latin alphabet.
However, it's not as difficult as it looks. From the 33 letters, several are the same. Some others look the same but are pronounced differently. And some are completely new.
The book Master the Russian Alphabet is a good start if you want to learn Russian. It's a workbook that teaches you every single letter, how to pronounce it correctly, and the different forms it has (capital, cursive).
It also gives you specific exercises to make sure you learn each Russian letter well.
Read Master the Russian Alphabet if you:
want a simple but effective guide to learn the Russian alphabet + pronunciation
want to see all the letters in different fonts and cursive script
want to learn to read and write the Russian alphabet
want to learn how to write in Russian cursive
Living Language Complete Edition Russian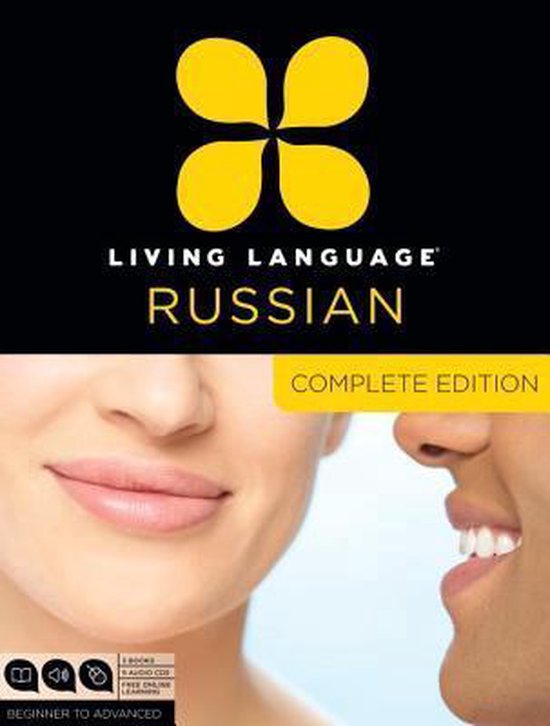 This is actually a textbook and audio course in one. The complete edition has 3 textbooks, with increasing difficulty.
It's a good book if you like the combination of text and audio. For example you could listen to the audio while commuting to work. And then after work at night go through the regular textbook part.
Read Living Language if you:
like the combination of audio and regular textbook
want a simple explanation of Russian grammar and vocabulary
New Penguin Russian Course
The New Penguin Russian course is for complete beginners. It has 30 lessons, and focuses on teaching you the most common 1500 Russian words, and basic grammar.
The only downside is that this book was published in 1996. So it teaches you some outdated Russian vocabulary.
Read the New Penguin Russian Course if you:
want to learn beginner vocabulary and grammar
My First Russian Book
My First Russian book is an illustrated book for bilingual children. It teaches the 200 common Russian words, and illustrates them. Each word is also written including its English translation. And that makes it an easy book for bilingual children to learn Russian.
Or at least, that's the target audience. However, if you're an adult and want to learn Russian words with more illustrations, then I also recommend this book. After all, it's a lot easier to remember new words in a foreign language, if you see a visual illustration of the word.
Because if you only see a Russian word and its English translation, that might not be enough for the word to stick out in your mind.
Read my first Russian book if you:
do not like traditional ways of remembering new vocabulary
learn best by visually seeing an illustration of a word
Russian Short Stories For Beginners
This is not one of the common Russian textbooks that teaches you grammar and vocabulary.. It's rather a combination of short stories. After each story, there's a section of vocabulary, so you can use that to learn new words. After that, you will get a short quiz, to see if you understood the story well enough.
Even though the title states 'for beginners', it's not good for complete beginners. I do recommend that you already know approximately 200+ words in Russian before getting this book.
Otherwise you will need to constantly look up basic words, and that can get you out of the flow of trying to read a story. So if that is you, better to use an app or other book to learn the most common 200 words. And then get started with the short stories here.
Read Russian short stories for beginners if you:
like to read stories
want a contextual approach to learning new Russian words
already know at least 200 words
Michel Thomas Russian course
This is not officially a book, but an audio course. But it contains a booklet for all the lessons, so it qualifies. The main reason why I added it here to this list of best Russian books is because it's so incredibly effective for beginner Russian learners.
The course is around 20 hours long. And it will easily guide you from complete beginner to lower intermediate. It starts off super basic, but already after a couple of hours you will be able to form long sentences.
And because it's mainly audio based, you also focus on your understanding of spoken Russian at the same time.
Get Michel Thomas Russian if you:
prefer audio based learning
want one program to go from complete beginner to lower intermediate
want to focus on learning how to speak Russian
What are the best books to learn Russian for intermediate students?
2000 Most Common Russian Words in Context
This is a great book + audiobook if you want to learn more Russian words. Especially in the intermediate stage, you should focus specifically on learning more Russian words and phrases.
This book does a good job at that. As you would expect from the name, it's basically a collection of the most common 2000 words. You can also listen to the correct Russian pronunciation, as that's included with the audio book. Each word also has a couple of example phrases, so that is also helpful for Russian learners, who focus on speaking Russian.
The only downside is that this (audio)book is really nothing more than a large list of Russian words. They are not grouped by theme or anything like that. So it's best for intermediate students who want to systematically learn Russian words.
Read the 2000 most common Russian words in context if you:
want to take a systematic approach to learning Russian vocabulary
want to hear and see words at the same time to remember them better
501 Russian Verbs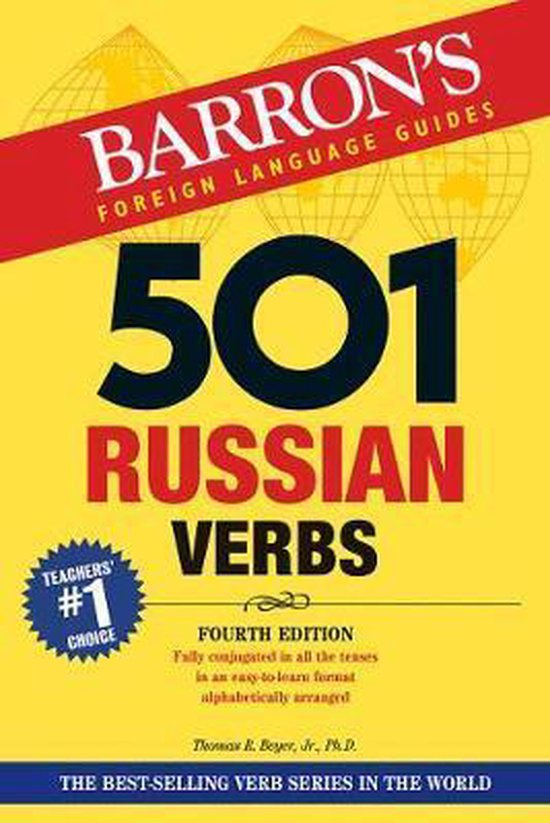 If you've been learning Russian for a while, you know that Russian verb conjugation is one of the more difficult parts of Russian grammar. Each verb has 6 different conjugations in the present tense, and there are plenty of irregular verbs as well. And you also need to remember which perfective verb pairs with the imperfective verbs.
So while I recommend you learn Russian grammar and verbs mainly through immersion and audio courses, drills do have their place.
And this book is one of the ultimate drills. It takes the most commonly used 501 Russian verbs, and explains in detail all the conjugations, different tenses, perfective/imperfective pairs and how to use the verb.
This can be incredibly valuable if you already have experience speaking, and want to improve your verb conjugation skills.
Read 501 Russian verbs if you:
can already have conversations, but struggle getting the verbs right
forget which perfective verb is paired to which imperfective verb
want to systematically improve your knowledge of the Russian verbs
Harry Potter
Harry Potter is the first book you should try to read completely in Russian. That's because it's a children's book. And you likely have read the book in English before.
Reading a book completely in the Cyrillic alphabet is difficult. Especially if you've never done it before.
Now, you may have read some short stories completely in Russian before, but if you want to try to read a full normal book in Russian, you should absolutely start with Harry Potter.
The vocabulary used is not difficult. As the book is also meant for kids to read.
And if you've already read the book before in your native language, then you already know the plot. This helps tremendously when you're reading. Because you don't need to understand every single thing that's going on. After all, you already know where the story is going.
So if you struggle with a specific page, don't worry. You can just continue reading.
Read Harry Potter in Russian if you:
want to try reading a full book completely in Russian
like fantasy books
have been reading short stories completely in Russian and want to challenge yourself
Short Stories in Russian for Beginners
Olly Richards wrote this book. And it's a collection of eight stories to learn Russian. Each story has the new vocabulary at the end of it, and that can make this book a great practice for both your reading skills, and to improve your Russian vocabulary.
Be warned though: the name says it's for beginners. But in reality this book is best for upper beginner to intermediate learners.
Read short stories in Russian for beginners if you :
want intermediate reading practice
want a fun way to learn new vocabulary
A Comprehensive Russian Grammar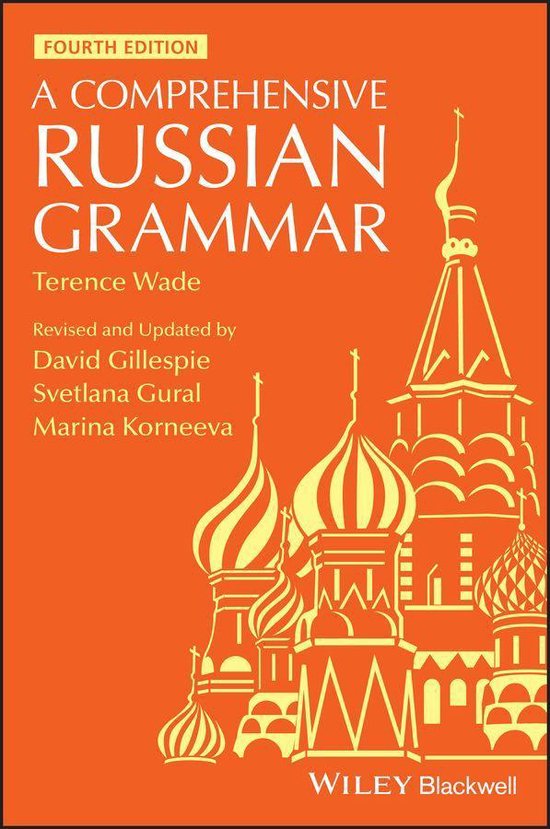 Some people overvalue the importance of Russian grammar. If your main focus is to speak Russian, then it's a good idea to focus mainly on speaking Russian and add a little bit of grammar exercises to understand the cases and verb conjugation.
That's why this book is here in the intermediate section.
Once you have started to practice speaking, and can have conversations with native Russian speakers, it's a good idea to supplement Russian grammar.
That's when this book comes into play. It's the most detailed overview and explanation of all the Russian grammatical rules and how they work.
It's not a book for reading once from cover to cover. But it's more of an encyclopedia to open whenever you encounter a specific grammatical situation where you need to learn more.
Get a Comprehensive Russian grammar if:
you already have experience speaking, and want to improve your grammar skills
you are looking for a systematic approach to Russian grammar
Which books should advanced Russian students read?
Metro 2033
This is the most popular modern Russian fiction book from the last 20 years. The book details the story of Artyom, who grew up living in the Moscow metro. That's because when he was just a child, there was a worldwide nuclear war that covered the world in dangerous radiation.
The only place where people survived was in the deep Moscow metro.
It's a fascinating fiction story, and it will take you on a dark adventure throughout the underground of Moscow.
It's especially interesting to read if you have been to Moscow before. Because you'll recognize many metro stations, where you yourself have been.
This book is for upper intermediate to advanced learners, as it's difficult. I read this book 1.5 years into my Russian language learning. And I think I understood about 70% of what was going on. That's okay, as the main benefit of reading a native book like this, is to practice reading.
Read Metro 2033 if you:
want to test your Russian
like a fascinating story that happens in the Moscow metro
What to do next to learn the Russian language?
I recommend you pick just one of these best books to learn Russian in this list. Progress in Russian comes from daily practice, and the easiest way to do that is to do the same type of practice every day.
Get one book, and finish it. Don't just read through it and put it aside. But do all the exercises. Reread chapters that you found difficult. Use the knowledge you learn while practicing speaking with native Russian speakers. That way you can get the most out of each book, and make the most progress with your Russian skills.
What should you do next?
Learning Russian does NOT need to be difficult. All you need is a solid plan that helps you improve the following things daily:
vocabulary
grammar
listening skills
speaking skills
That's ALL you need. If you can do this for a couple of weeks, you'll already be making great progress in your Russian skills.
And the best part? If you improve a little bit every day, soon these practices will become daily habits.
And then you will start making progress on autopilot.
This means that learning Russian is now a part of your daily routine. So you won't even need discipline anymore to get yourself to practice.
If you like the idea of this, but don't know where to start, go here for more information.